---
Okinawa Sea finish is one of the best teal, blue type finish in the world.
And swamp ash body's figuring is super unique, very light, resonant, great matching with BKP Ragnarok.
Thank you for the fifth build for me ! Absolutely stunning guitar as usual !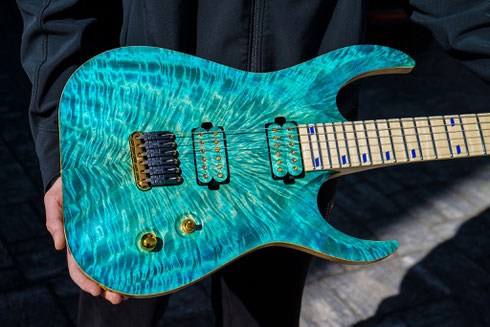 ---
I can't believe this beauty is in my hands. This is the most beautiful instrument I've ever seen.
And of course it sounds awesome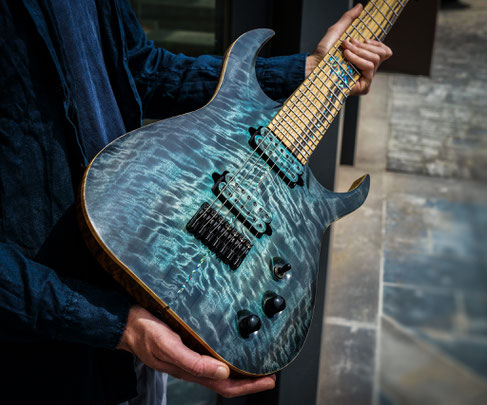 ---
In my hands in 3 days !!! Awesome guitar, greatest one I ever had !!!
I hope one day I'll have a chance to build a new one from you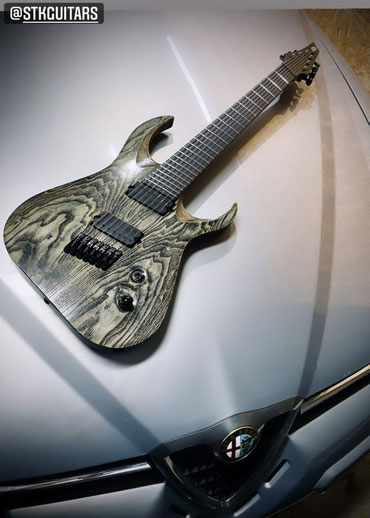 ---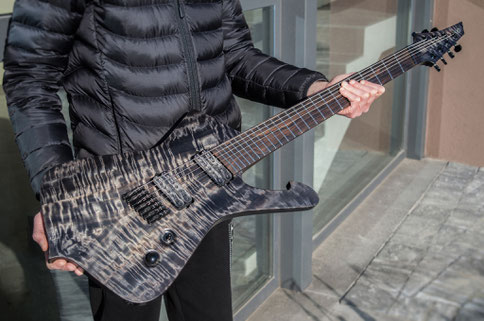 Hi Alex, Kento here! The guitar has arrived at home on schedule! And holy cow, this is what I exactly wanted to have...It looks great with no doubt, as I saw in your photos. And importantly, it sounds cleaner and more aggressive than I imagined. I'd like to write my impression from some points of view.
1. Headstock and Neck
The headstock looks gorgeous with its wood figure and the beautiful logo. Schaller M6 are really functional as you might know. The ziricote fretboard is what I've never had, but came out great. It looks awesome, and smells tastyXD
The neck is so smooth. When I was writing the spec, I wrote that I shred often and I want to access all frets with no stress. And Alex delivered it. I can literally use every fret, from the lowest to the highest. I've never met Alex in person sadly and never made the neck shape together, but it fits like he knows how I play! Maybe his hand and mine are in similar size lol
I suppose that Macassar ebony mostly describes why this guitar has the aggressive sound and clean sound at the same time. It is a heavy wood and therefore a little heavier than the swamp ash body of this guitar, but it's not a problem for me. I chose two maple layers together for aesthetic reason, but also, this multi-piece neck has better stability, combined with two thick carbon fiber reinforcements inside. I love fanned frets and I prefer small angle, so I went for 27"-26" inch scale and it turned out to be the best for its low tuning.
2. Body
I really think that I chose proper woods and Alex did a killer job, when I look at the body and the top. The swamp ash body is so lightweight and very resonant, and the figured poplar top is just mesmerizing. Combined with Alpine Grey colour, it couldn't get any better.
The bridge is so smooth as well when I palm-mute the strings. The control layout is what I asked Alex, too. It doesn't interrupt me when I'm shredding.
This time, I chose to go for this IC shape (you know lol) because I love it and Alex has made this shape once, but next time I go for his S shapes because these are HIS creations and I want to feel these :)
3. The Sound
This guitar looks aggressive as I said, but soundwise, it's not only that. It does sound aggressive and hard when I add some gain to the amp, but once I choose clean channel, it suddenly becomes gentle and beautifully clean.
This beast is much more versatile than I imagined it would be.
4. Overall Experience and etc.
Alex was so kind and honest throughout the whole process. When I was specing out, he helped me a lot with better choices telling me pros and cons. During the build, he sent me many photos as updates and precisely described me what is going on. It must've been an unusual guitar for him to build when it comes to the body (he actually has made the same body shape once as I said, but with so many different specs), but he truly killed it. Building custom instruments cannot be easy for many reasons, but if you ask him, he delivers it.
I definitely recommend you to talk to him and possibly order one, if you want a high-quality custom guitar. When you talk with Alex, he would tell you what the logo implies ;)
I've played many guitars, but this one is one the best, probably the best.
Thank you again for build such a beautiful and amazing instrument! 
---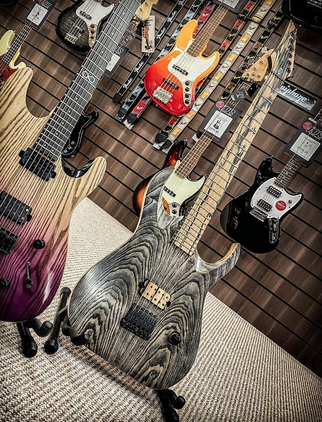 This is the best guitar I have ever played. My friend and I are really impressed with the attention to detail and all the little finishes, plays great, fretboard is brilliant, really smooth and I'm very happy with the neck too. Thank you for building the guitar exactly how I asked
---
Buckeye Burl top, Black Limba back, gold hardware, luminous fret dots and more. A smooth, stunning, beautiful oneofakind masterpiece custom made by Alex of STK Guitars for me. I am in awe and grateful beyond words.
---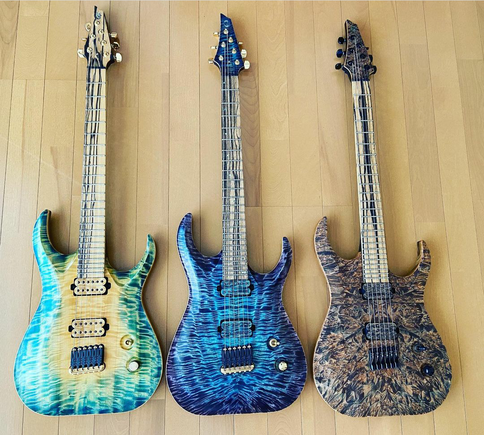 Hi Alex ! Thank you for your absolutely stunning guitar !
Super light weight, Very resonant, Fast neck profile, Beautiful looks, all of your guitar is Perfect !
Also I'm thankful for your quick response, communicativity, and fast shipping !
I think STK guitars next innovator of modern guitar world.
All the Best Alex and STK guitars. From far east Japan.
---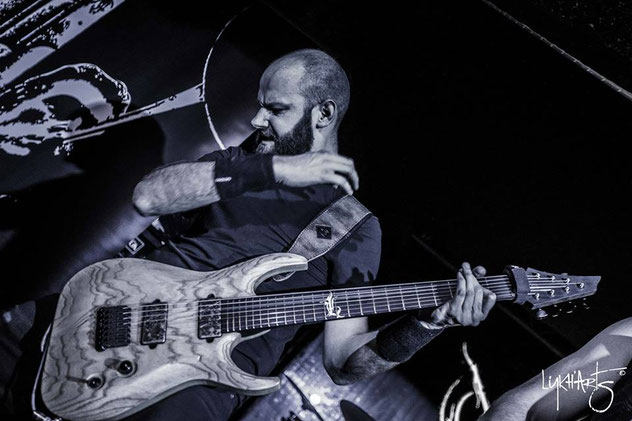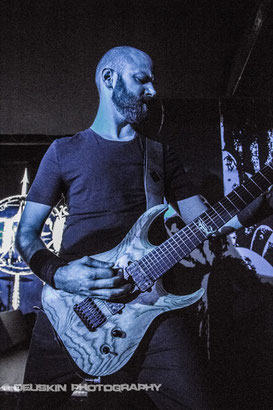 Hi Alex, just received the beast this morning: it looks PERFECT ! Really in love with the guitar and the ebony neck feeling. Played it live for the first time last sunday. Your craft skills are just perfect.
---
Hey guys the guitar arrived yesterday and just want say a big thank you. The guitar is realy amazing and the love in the details is just stunning. Thank you very much ... I'm very statisfied this the nicest guitar I've ever had.
---
Alex, received the guitar yesterday! Super fast shipping. But I wanted to first thank you for the smooth process during the build with all the updates and emails. Very much appreciated. Now, the guitar shipped with no issues at all in regards to shipping. The guitar itself, is absolutely amazing Alex!!! You have blown my mind with the craftsmanship and quality :) you made that vision of my perfect guitar a reality and I couldn't be more pleased! The action and playability is far superior than any instrument I've played or owned! The tones and feel are exactly what I had thought it would be !! Thank you again! I might have to order another one in the near future!! Thank you again, I wish you continue success.
QUALITY / IMPRESSION
First glance the guitar is stunning. The ash and grain pop like crazy ! I was a little worried it wouldn't be as eye catchy as it shows in the photos, but it delivers. In person it's actually a little darker which is amazing. Going over the guitar, I found no imperfections at all !!
I tried and tried to find something wrong, but nothing. The neck pocket is extremely tight and the cuts are right on. The Pickup cavities are extremely tight and basically hug the covers. What impressed me the most, was the fretwork !! Impeccable fretwork. I literally cannot even feel the fret ends as I play. Super smooth. Overall, the quality is what I would expect from a custom shop. The expectations were met extremely well and I am so pleased. Thanks STK!
PLAYABILITY / SOUND
The guitar plays fantastic. Alex reached out and wanted to know a preference that I had in neck carve and overall set up. Stock radius is 16", but I felt a 12" inch radius would suit my smaller hand needs. We went with a thin profile and it turned out great !! playing chords and also riffing out is very natural. The action came perfect!! no fret buzz at any point on the fingerboard. The ebony is so smooth to play on. The wood choices with the BKP pickups give a great clear midrange tone that sounds very well balanced. The low end is tight and not flubby at all ! One thing I noticed is that the guitar harmonics scream out. Sounds great over all and the clean tones are so warm and clear. Definitely one of the most balanced guitar I've played. I can't put it down.
In counclusion, Alex at STK blew my expectations away and I could not be happier. The quality and craftsmanship is definitely up there and worth the money spent, which is reassuring. I hope you guys enjoy the pics and if you are wanting a build, do not hesitate to go with STK if it fits your needs. I was planning to go with other brands, but STK responded and I felt this was the right place !
Thanks again STK !!
---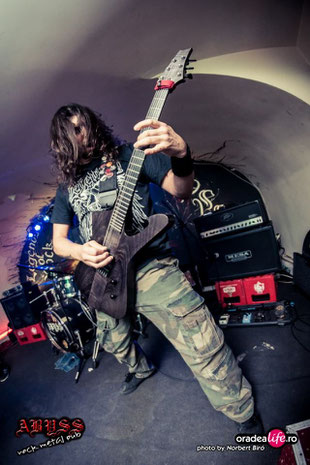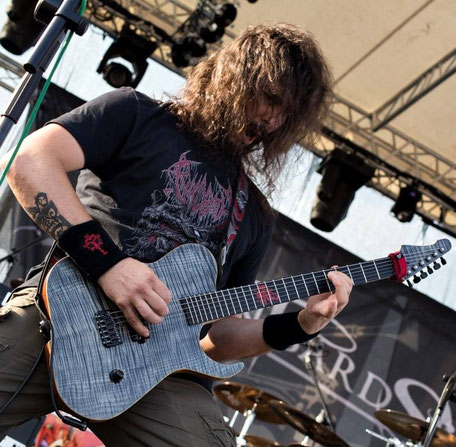 I' ve known Alex some time ago at one of my band gigs. Now a few years later, our collaboration and friendship are affirmed; I have two STK instruments made to measure for me. I firmly believe that STK is a brand with the highest quality standards.
---
Hey! The guitar arrived yesterday and it is simply amazing. ... The neck is by far the best I have ever played. I've always been more the player for rhythm than for solo, but on this guitar even my fingers start flying. I can't even describe it. It's everyting I've expected and more and I'm in love before even hearing it. Thank you so much!
---
Hi Alex, the guitar landed safe! She is an absolute weapon - like it so much! Sounds over my Fortin Amps KILLER!
---
Both guitars are great! Very nice setup and playability. I'm really happy with them. Thanks!
---
Hi Alex, I have received the guitar and I must say, it is absolutely amazing.
The craftmanship is by far the best I've seen on any guitar I've tried. 
Thank you for everything. I will definetly be placing another order with you in the future!
---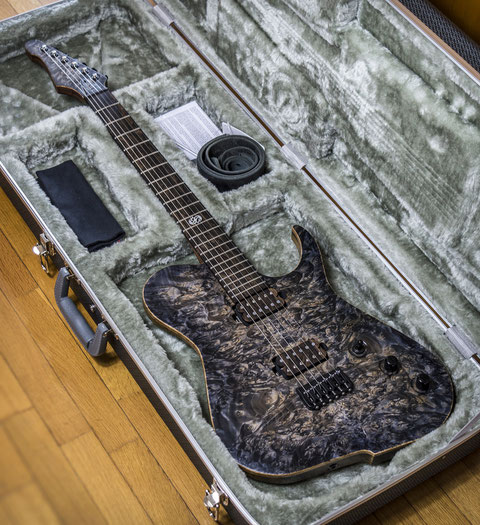 Hi Alex, just wanted to drop you a note that I am really loving the new axe.  It's beautiful, plays very nicely, and sounds great.  You will definitely be at the top of my list for future custom builds. Thank you
---
The guitar is perfectly balanced and super comfortable to play thanks to the arm rest. The Mahogany used for the body and neck is gorgeous and the Mango top pops out nicely. Overall, my girlfriend said the guitar looked even better in real life than on the photos. The frets are very well done and there are definitely no sharp fret ends. The pickups sound good and well-balanced, as expected from BKP. I love that the Ziricote topper on the neck pickup are bookmatched to the fretboard
---
Hi Alex, finally, S1A has arrived in Japan safely!! I'm very grateful for your kindness. I'm very satisfied with looks, playability, and of course its sounds!!
I'll try various settings for a while. Someday, I may order another guitar from you.